Code for All's 2021
Words by Lorin Camargo • Dec 14 2021
Reflecting on what we accomplished this year.
As we get ready to start 2022 with a bang, we'd like to reflect on what we've accomplished over the last year. Here's a quick, to-the-point summary of what we got up to in 2021!
> Exchanges
Our Exchange Program brings together Code for All member organizations who have similar focuses, so they can collaborate to replicate, build on or create new projects together.
Civic Tech <> Civil Society
This particular exchange seeks to bridge the divide between civic tech and civil society sectors by encouraging collaboration amongst them. Our members involved in this project are Code for Pakistan and Codeando Mexico. Together, they're working to co-develop a framework for digital citizen-led efforts that will provide input and feedback on government budgeting, policies, processes and projects, with the goal of fostering transparency and accessibility. More details will come out about this project next year!
Disinformation
Troll Tracker is an exchange involving multiple organizations within Code for Africa, who are working together to keep disinformation agents accountable. You can read more about the project here.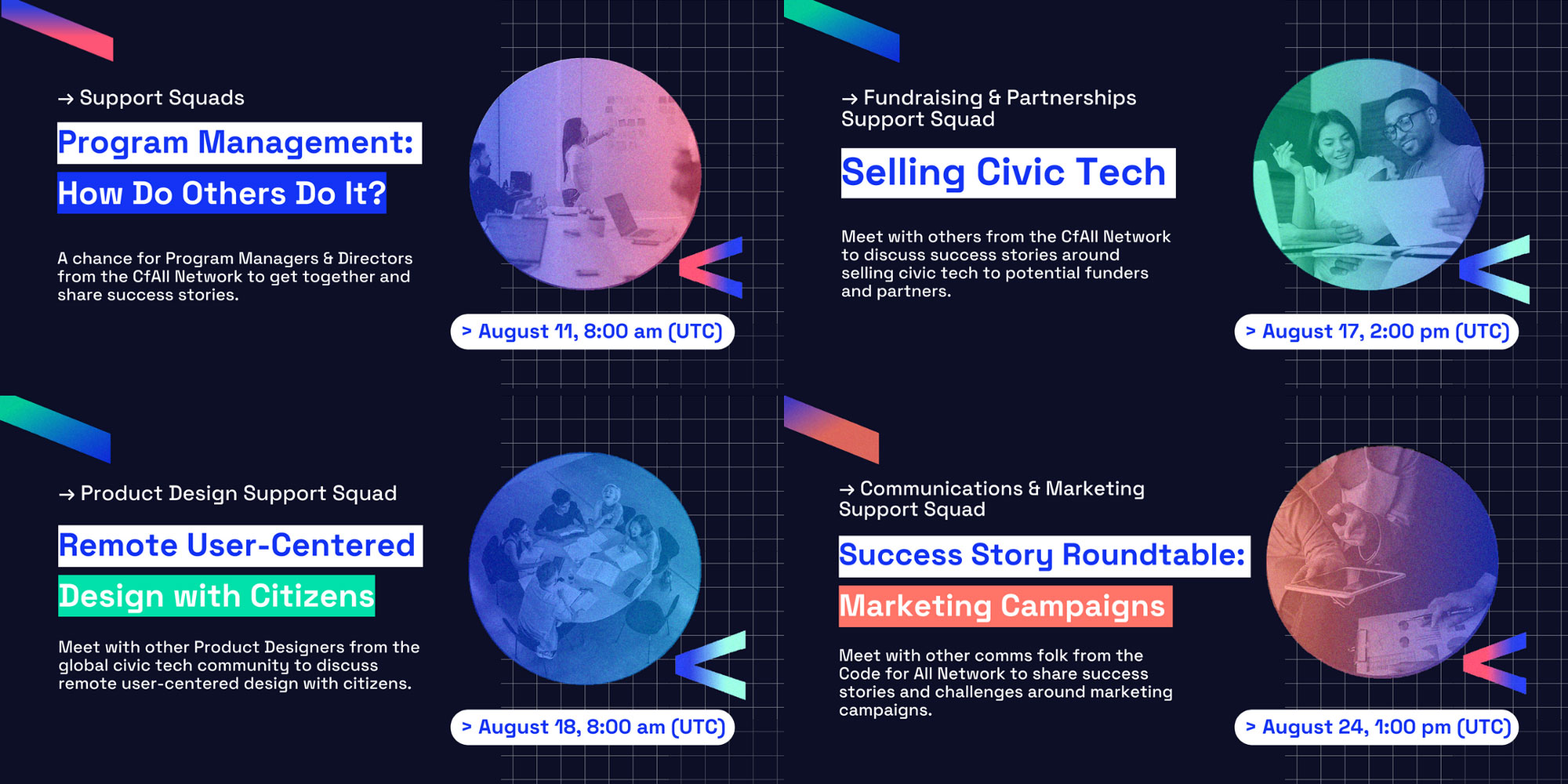 > Support Squads
We launched a new program! Support Squads is all about bringing people together who are working similar roles in the field of civic tech, but at different organizations and in different parts of the world. Read about our progress so far here.
> Capacity Building
Over the last year, we've engaged in a deeper focus on capacity building and training for our members. These trainings have been centered around the needs of our members, and were developed and delivered by experts of each topic.
Equity & Inclusion
We engaged an equity and inclusion consultant to research and understand ways Code for All and our members currently function that hinder equity and inclusion and how they might address these gaps. Learn more about it and download the report and playbook here.
Online Facilitation
In the wake of the pandemic, with so many events and meetings switching from in-person to online, we brought in an expert to help improve the way we and our 30+ member organizations design and deliver online meetings.
Organizational Sustainability
We hosted a workshop called "Strengthening Financial Sustainability for Nonprofits", which provided tailored support for two of our member organizations, enabling them to strengthen their organizational skills and explore new approaches to become financially sustainable in the future.
> Summit
Our second ever virtual Summit went off without a hitch! We organized and hosted a total of 22 sessions, including: 12 lightning talks, 7 panels and 3 workshops. Sessions that were recorded can be found here.
We had over 260 registrations from folks across 42 countries, and we had a total of 43 speakers representing 30 different organizations. The topics that this year's Summit focused on were:
> Democracy & Elections
> Disinformation & Fake News
> Power Dynamics in Tech
> Open vs. Closed Tech in Government
As a step forward from our 2020 Summit, we decided to hire a consultant to help make this year's event more accessible for our diverse audience. You can read about their process, and what was achieved here.
Lightning Talks
> Digital government isn't working in the developing world
> Children's Rights in the Digital Era
> Tech for Housing Relief, During COVID and Beyond
> Can civic fellowships promote open source tech adoption in governments?
> Creating Equality for the Incarcerated Through Tech
> An open source platform ecosystem for municipalities
> Public Code: how it started, how it's going!
> Wikidata in your Civic Tech project
> Changes since the pandemic with Startups and Student Collaborations
> Drip by Drip: Creating a Water Commons
> Data Tools & Misrepresentation
Workshops
> How to put the power in the people's hands
> Why Beneficial Ownership Registers Should Be Public, Open and Free (not recorded)
> Fake News Workshop (not recorded)
Panels
> Democracy & Tech: Stories from the Code for All Network
> Unpacking the Shocking State of Mass Surveillance in Latin America
> Open Technology & Indigenous Populations (Spanish)
> An Exploration of Power in the Code for All Network
> Achieving Real Change through Mass Collaboration
> Against trolls & rumours: targeting disinformation
> Right to Know, Right to Code
> New Look
Over the last year, we rebranded with a new logo, color scheme, website, and graphic line as part of the ongoing evolution of the Code for All network. Take a stroll through our new website and read about the process here.
---
Lorin Camargo