Building a Sustainable Future for CTIN
Words by Mar Marín • Dec 15 2022
El artículo también está disponible en español.
We are supporting civic tech non-profit organizations to build a more sustainable future with La Sobremesa.
Technology is transforming the relationship between citizens and their leaders. With this important transformation in how public services are managed and provided, a more networked community and collaboration are required.
Although interest in civic technology is higher than ever, non-profit organizations still struggle with the problem of sustainability. How can they ensure their future in the long term?
With this query in mind, Code for All —with the support of the National Democratic Institute—, has partnered with La Sobremesa to bring a tailored process to strengthen the financial sustainability action plans for non-profits in the civic tech sector.
In our 2022 Cohort, Civic Tech Innovation Network (CTIN) was selected to workshop its way into a sustainable future. For the past months, we've focused on helping boost its confidence around financial sustainability and strategic planning.
We chatted with Melissa Zisengwe, Programme Officer at CTIN, Anca Matioc, and Bea Irarrázaval from La Sobremesa to learn all about the accompaniment process and what sustainability looks like after the customized workshops.
Learn more about CTIN
CTIN is a project hosted by the Wits School of Governance. CTIN functions as a Community of Practice for the African civic tech community. The organization is focused on connecting and enabling collaboration among the different organizations, so they have a space to connect.
When applying to the Open Call, what were your expectations?
We needed to start thinking about how to sustain CTIN, financially and organisationally, and to start putting pen and paper to draw up an actual plan and strategy that could help us grow and continue our work. We wanted to learn about sustainability and how to create a plan for ourselves. This seemed like a space to sit down and talk about it.
What did sustainability look like before the workshop?
We did not have much of an outlook on our sustainability plan before we got accepted for the workshop series. Oh, boy, we definitely didn't! We were just surviving; that's why we applied.
How did you experience the accompaniment process with La Sobremesa?
The experience was amazing. It significantly shifted our thinking in terms of how we work and how that affects our sustainability and fundraising efforts. It allowed us to take a moment to brainstorm and come up with a strategy.
For years we had all these ideas accumulating, and this space brought a safe environment to put them down on paper and start working around them. The plan is not done yet, but we now actually have a document that we can build on.
Bea from La Sobremesa was very helpful! This is an activity and workshop that we would recommend. Also, based on our experience, we invited La Sobremesa to do something similar at our CTIF & JAMFEST '22 #UNPLUGGED – CTIN conference on a smaller scale as it was an amazing experience to share with the broader community.
What does sustainability look like after the workshop for your organization?
Like an actual activity that requires dedication and effort! Thanks to La Sobremesa we now have a plan for the next three years for sustaining our work, team, and future.
We have different plans in case we don't get funding. If we get funding, there are plans and activities we can set into motion. We have brainstormed and structured the type of funding we could raise, the type of organizational growth we need, the objectives, and the value we are providing to the community.
The main conclusion is that we needed to do this. It was something we haven't considered because we were in survival mode. We are grateful to Bea and Anca for sharing their expertise and walking us through structuring our financial sustainability and strategic planning.
We also sat down to talk to La Sobremesa and learn how they experienced this second collaboration and insights to be shared with the community.
Get to know more about La Sobremesa!
La Sobremesa is a consultancy that supports civil society in its journey toward becoming more resilient and inspiring, by working directly with leaders, organizations, and networks to address systemic challenges the sector faces. These systemic barriers include -in fact, center around- sustainability issues, from lack of knowledge and tools to lack of short and long-term strategy. Because of their experience and ethos, they focus on supporting groups in the TAI space in the global south.
They have conducted a number of workshops and support processes around sustainability with various organizations from Latin America and are eager to apply their lessons learned to support Code For All. Learn more here!
Are the challenges of organized civil society in Latin America and Africa the same or different? Did this lead to adapting/changing the focus of accompaniment? What was it that changed/continued?
We definitely saw several similarities such as:
The importance of collaboration and networking.
Adding voices, and strengthening their strategies.
The need to exchange, learn and have meaningful referents in the ecosystem.
In both cases, we were able to confirm that civil society actors require a vibrant ecosystem for their own strategies to work better. This was even more noticeable in Africa, where we noticed that the word competition was not used since the organizations that work on the same line are considered allies that "row" in the same direction.
We also perceive similar challenges. Both regions work in places where poverty, corruption, and humanitarian issues signify that civic technology is often not a priority. It becomes key, therefore, that all these actors strongly communicate that civic technology is a means to solve these problems, and not an end in itself. This implies incorporating the beneficiaries from the beginning, and walk them through the project design and testing process: and, constantly including voices and stories that demonstrate how civic technology generated an impact on their lives.
How did La Sobremesa experience the second cohort? Did you find challenges, and did they change based on the first implementation?
The lack of financing that many non-profit organizations tend to have, particularly those in the field of civic technology, generates teams with a lot of overloads, and a lack of spaces to learn, reflect, and evaluate. In some cases, limited financing does not allow for implementing strategies with a long-term impact.
Sustainability is a topic that can be overwhelming for many organizations. In the global south, most of the people who work in NGOs are experts in the different problems that each organization is dedicated to. However, in many cases, they have not received training in sustainability, administration, and finance, —everything related to strengthening organizations. Therefore, they must make their way by walking and learning from practice.
Let's sum it up!
La Sobremesa and Code For All designed a personalized accompaniment for three organizations, which would facilitate the process of learning and designing the sustainability plans of each organization.
In the first round, they worked with Codeando México and Ciudadanía Inteligente through three intense sessions in which they guide them along the path of rethinking their sustainability. These processes involved not only thinking about finances, but also getting to the heart of the organization, and its mission, and reflecting on how it can scale, communicate and show itself to others.
In the second round, La Sobremesa had the opportunity to carry out an even more personalized accompaniment to CTIN through five sessions. They understood that this process is not quick and requires reflection and openness to change the way of approaching the matter, get creative, learn and discuss. The team and CTIN managed to rethink together what their added value is, what particular niche they should focus on, what makes their activities and strategies meet the needs of their allies, and what they can do to make them even more useful.
La Sobremesa Team shares that, undoubtedly, the path is full of challenges and requires time, patience, teamwork, and courage to overcome difficulties and ways of doing things that are often crystallized. Their experience shows that the results, the confidence generated, the capacities installed and the satisfaction of being able to project a healthy organization with clear goals is such a revolutionary process that there is no going back. once the tour has started.
This accompaniment has shown another way of working for the organizations involved, and how to support the civic tech sector that is so pressured and, many times, little accompanied.
If you want to learn more about the work done by La Sobremesa, head to our Q&A with their director, Anca Matioc, and check out their website for more information.
Hop on to our communications channels!
Are you interested in learning more about sustainability? Learn five tips to achieve a sustainable organization shared by La Sobremesa.
We invite you to jump in on civic tech discussions and connect with others in the space by hopping on the Code for All Slack. You can also stay up to date with the global civic tech community by joining our mailing list.
See you around the Network!
***
Construyendo un futuro sostenible para Civic Tech Innovation Network
Estamos apoyando a organizaciones de tecnología cívica sin fines de lucro para construir un futuro más sostenible con La Sobremesa.
La tecnología está transformando la relación entre la ciudadanía y sus líderes. Con esta importante transformación en la forma en que se administran y brindan los servicios públicos, se requiere una comunidad más interconectada y más colaborativa.
Aunque el interés en la tecnología cívica es más grande que nunca, las organizaciones sin fines de lucro todavía luchan con el problema de la sustentabilidad. ¿Cómo pueden asegurar su futuro a largo plazo?
Con esta idea en mente, Code for All —con el apoyo del National Democratic Institute—, se ha asociado con La Sobremesa para traer un proceso personalizado que permita fortalecer los planes de acción de sostenibilidad financiera para organizaciones sin fines de lucro en el sector de tecnología cívica.
En nuestra Cohorte 2022, Civic Tech Innovation Network (CTIN) fue seleccionada para trabajar en su camino hacia un futuro sostenible. Durante los últimos meses, nos hemos centrado en ayudar a aumentar su confianza en torno a la sostenibilidad financiera y la planificación estratégica.
Charlamos con Melissa Zisengwe, Oficial de Programas de CTIN, y Anca Matioc y Bea Irarrázaval, de La Sobremesa, para conocer todos los detalles sobre el proceso de acompañamiento y cómo se ve la sustentabilidad después de los talleres personalizados.
Conoce a CTIN
CTIN es un proyecto organizado por la Wits School of Governance. CTIN funciona como una comunidad de práctica para la comunidad de tecnología cívica africana. La organización está enfocada en conectar y permitir la colaboración entre las diferentes organizaciones, para que tengan un espacio para conectarse.
Al aplicar a la convocatoria, ¿cuáles eran sus expectativas?
Necesitábamos comenzar a pensar en cómo sostener CTIN, financiera y organizativamente, y poner a trabajar el lápiz y papel para elaborar un plan y una estrategia real que pudieran ayudarnos a crecer y continuar nuestro trabajo. Específicamente, queríamos aprender sobre sostenibilidad financiera y cómo crear un plan para nosotros mismos. Esta oportunidad parecía un espacio para sentarse y hablar sobre ello.
¿Cómo se veía la sostenibilidad en CTIN antes del taller?
No teníamos mucha perspectiva sobre nuestro plan de sostenibilidad antes de que nos aceptaran para la serie de talleres. ¡Oh, definitivamente no lo hicimos! Solo sobrevivíamos; por eso aplicamos.
¿Cómo vivieron el proceso de acompañamiento con La Sobremesa?
La experiencia fue increíble. Cambió significativamente nuestra forma de pensar en términos de cómo trabajamos y cómo eso afecta nuestra sustentabilidad y los esfuerzos de recaudación de fondos. Nos permitió tomarnos un momento para hacer una lluvia de ideas y elaborar una estrategia.
Durante años tuvimos todas estas ideas acumuladas, y este espacio trajo un entorno seguro para plasmarlas en papel y comenzar a trabajar en torno a ellas. El plan aún no está terminado, pero ahora tenemos un documento sobre el que podemos construir. ¡Bea de La Sobremesa fue muy útil! Esta es una actividad y taller que recomendaríamos.
Además, basándonos en nuestra experiencia, invitamos a La Sobremesa a hacer algo similar en nuestra conferencia CTIF & JAMFEST '22 #UNPLUGGED – CTIN en una escala más pequeña, ya que fue una experiencia increíble para compartir con la comunidad en general.
¿Cómo se ve la sostenibilidad después del taller para su organización?
¡Como una actividad real que requiere dedicación y esfuerzo! Gracias a La Sobremesa ahora tenemos un plan para los próximos tres años para sostener nuestro trabajo, equipo y futuro.
Tenemos diferentes planes en caso de que no consigamos financiación. Si conseguimos financiación, hay planes y actividades que podemos poner en marcha. Hicimos una lluvia de ideas y estructuramos el tipo de financiamiento que podríamos recaudar, el tipo de crecimiento organizacional que necesitamos, los objetivos y el valor que estamos brindando a la comunidad.
La conclusión principal es que necesitábamos hacer esto. Era algo que no habíamos considerado porque estábamos en modo de supervivencia. Estamos agradecidos con Bea y Anca por compartir su experiencia y guiarnos a través de la estructuración de nuestra sostenibilidad financiera y planificación estratégica.
También nos sentamos a hablar con La Sobremesa y conocer cómo vivieron esta segunda colaboración y las ideas para compartir con la comunidad.
¡Conoce más sobre La Sobremesa!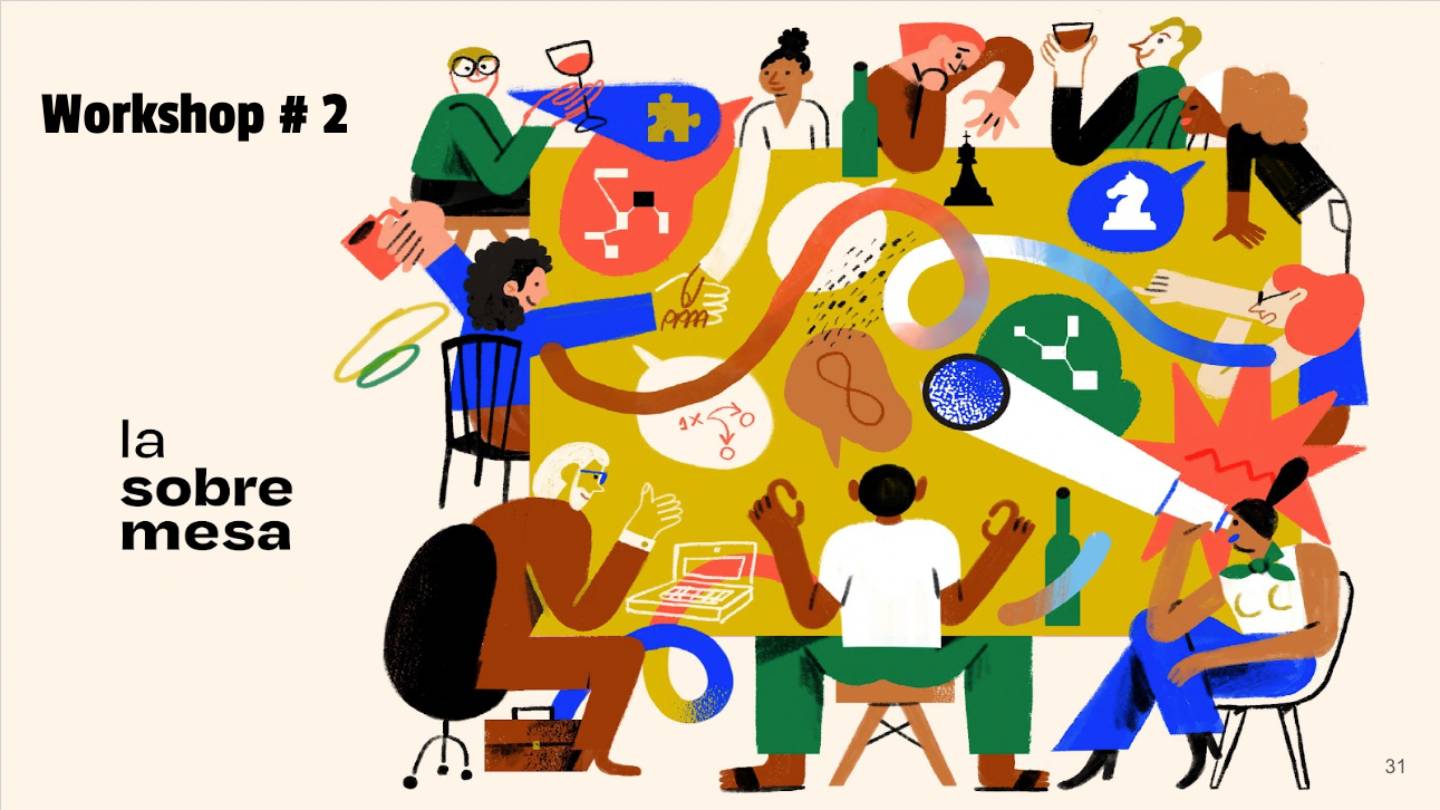 La Sobremesa es una consultoría que apoya a la sociedad civil en su viaje hacia una mayor resiliencia e inspiración, trabajando directamente con líderes, organizaciones y redes para abordar los desafíos sistémicos que enfrenta el sector. Estas barreras sistémicas se centran en cuestiones de sostenibilidad, desde la falta de conocimiento y herramientas hasta la falta de una estrategia a corto y largo plazo. Debido a su experiencia y ethos, se enfocan en grupos de apoyo en el espacio TAI en el sur global.
La Sobremesa ha llevado a cabo una serie de talleres y procesos de apoyo en torno a la sostenibilidad con varias organizaciones de América Latina y están emocionadas por aplicar sus lecciones aprendidas para apoyar Code For All. ¡Aprende más aquí!
¿Los desafíos de la sociedad civil organizada en América Latina y África son iguales o diferentes? ¿Esto llevó a adaptar/cambiar el enfoque del acompañamiento? ¿Qué fue lo que cambió/continuó?
Definitivamente vimos varias similitudes como:
La importancia de la colaboración y el trabajo en red,
Sumar voces, y fortalecer sus estrategias,
La necesidad de intercambiar, aprender y tener referentes significativos en el ecosistema.
En ambos casos, pudimos confirmar que los actores de la sociedad civil requieren un ecosistema vibrante para que sus propias estrategias funcionen mejor. Esto fue aún más notorio en África, donde notamos que no se usaba la palabra competencia, ya que las organizaciones que trabajan en la misma línea son consideradas aliadas que "reman" en la misma dirección.
También percibimos desafíos similares. Ambas regiones trabajan en lugares donde la pobreza, la corrupción y los problemas humanitarios significan que la tecnología cívica a menudo no es una prioridad. Se vuelve clave, por lo tanto, que todos estos actores comuniquen con fuerza que la tecnología cívica es un medio para resolver estos problemas, y no un fin en sí mismo. Esto implica incorporar a los beneficiarios desde el inicio, y acompañarlos en el proceso de diseño y prueba del proyecto; e incluir constantemente voces e historias que demuestren cómo la tecnología cívica generó un impacto en sus vidas.
¿Cómo vivió La Sobremesa la segunda cohorte? ¿Encontraron desafíos? De ser así, ¿qué cambiaron en función de la primera implementación?
La falta de financiamiento que suelen tener muchas organizaciones sin fines de lucro, particularmente en el campo de la tecnología cívica, genera equipos con mucha sobrecarga y falta de espacios para aprender, reflexionar y evaluar. En algunos casos, el financiamiento limitado no permite implementar estrategias con impacto a largo plazo.
La sostenibilidad es un tema que puede ser abrumador para muchas organizaciones. En el sur global, la mayoría de las personas que trabajan en ONG son expertos en los diferentes problemas a los que se dedica cada organización. Sin embargo, en muchos casos no han recibido capacitación en sustentabilidad, administración y finanzas, todo lo relacionado con el fortalecimiento de las organizaciones. Por lo tanto, deben abrirse camino caminando y aprendiendo de la práctica.
Resumiendo…
La Sobremesa y Code For All diseñaron un acompañamiento personalizado para tres organizaciones, lo que facilitaría el proceso de aprendizaje y diseño de los planes de sustentabilidad de cada organización.
En la primera ronda trabajaron con Codeando México y Ciudadanía Inteligente a través de tres intensas sesiones en las que los guían por el camino de repensar su sustentabilidad. Estos procesos implicaron no solo pensar en las finanzas, sino también llegar al corazón de la organización y su misión, y reflexionar sobre cómo puede escalar, comunicarse y mostrarse a los demás.
En la segunda ronda, La Sobremesa tuvo la oportunidad de realizar un acompañamiento aún más personalizado al CTIN a través de cinco sesiones. Entendieron que este proceso no es rápido y requiere reflexión y apertura para cambiar la forma de abordar el asunto, ser creativo, aprender y discutir. El equipo y CTIN lograron repensar juntos cuál es su valor agregado, en qué nicho particular deben enfocarse, qué hace que sus actividades y estrategias satisfagan las necesidades de sus aliados y qué pueden hacer para que sean aún más útiles.
El Equipo de La Sobremesa comparte que, sin duda, el camino está lleno de desafíos y requiere tiempo, paciencia, trabajo en equipo y valentía para superar las dificultades y formas de hacer que muchas veces se cristalizan. Su experiencia demuestra que los resultados, la confianza generada, las capacidades instaladas y la satisfacción de poder proyectar una organización sana y con metas claras es un proceso tan revolucionario que no hay vuelta atrás, una vez iniciado el recorrido.
Este acompañamiento ha mostrado otra forma de trabajo de las organizaciones involucradas, y de cómo apoyar al sector cívico tech que está tan presionado y, muchas veces, poco acompañado.
Si quieres saber más sobre el trabajo realizado por La Sobremesa, dirígete a nuestro Q&A con su directora, Anca Matioc, y visita su sitio web para obtener más información.
¡Únete a nuestros canales de comunicación!
¿Estás interesada en aprender más sobre sostenibilidad? Conoce cinco tips para lograr una organización sostenible compartidos por La Sobremesa.
Te invitamos a participar en diálogos y debates sobre tecnología cívica y a conectarte con otras personas en el espacio utilizando nuestro canal en Slack. También, puedes mantenerte actualizada con la comunidad global de tecnología cívica uniéndose a nuestro newsletter.
¡Nos vemos en la Red!
---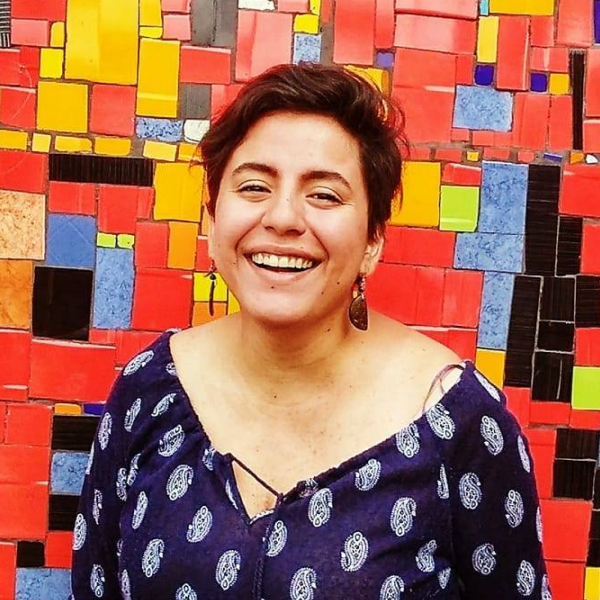 Mar Marín