Project Highlights & The Network
Disinfo-fighting lessons from 211CHECK
Words by Matt Stempeck • Aug 12 2022
As I speak to the Code for All network about their ongoing work to confront disinformation, I'll share quick summaries and the most exciting takeaways from those conversations here.
Please get in touch with me if you'd like to connect with the groups spotlighted in this project series.
Getting to know 211CHECK work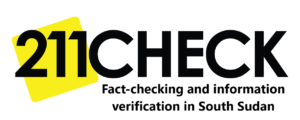 What do they do?
As South Sudan's only fact-checking organization, 211CHECK provides data-driven solutions to the problem of hate speech, fake news, and misinformation in Africa.
Disinfo lessons learned:
Working where people already are, in this case on Whatsapp and Telegram, has been critical to 211CHECK's impact. Content hubs like fact-checking websites aren't nearly as effective at reaching people as participation in Whatsapp groups. This finding is even more pronounced in limited connectivity environments like South Sudan, where people have a difficult time accessing traditional websites.
At the same time, the platforms themselves must fully resource these efforts. 211CHECK has received small grants, training, and reading resources from Facebook through its Trusted Partner Channel (TPC) program. But in order to join Facebook's Third Party Fact-checking program, 211CHECK must become a signatory to the International Fact-Checking Network's Code of Principles.
211CHECK provides free labor to Meta, monitoring its platforms for disinformation and drafting context reports for the company to advocate taking it down. They report propaganda on Facebook Pages that were set up specifically to spread disinformation. They provide examples of the content and explain what's happening in the posts so that Meta can undertake an investigation and un-publish the Page. But there are often long delays between 211CHECK flagging disinformation for Meta and any response. This allows critical time for disinformation to spread and affect people's views. Sometimes Meta doesn't respond at all, or decides not to take down disinformation, but doesn't share an answer as to why 211CHECK's report was insufficient. If Meta was able to provide feedback more consistently, and sooner, 211CHECK could be more effective in helping it tackle disinformation on its platforms. (Most of the disinformation is published in English, so language isn't a big factor here).
What works!
There's a role for other civic tech groups in inspiring action and showing what's possible in terms of effective methods for confronting disinformation. Africa Check, Code for Africa, and Code for All have directly informed 211CHECK's strategy and tactics.
211CHECK has creatively addressed the recurring problem of there being too few professional factcheckers. Given the limited resources to hire more fact-checkers, the organization leads training workshops to equip digital content creators with critical media literacy skills. By running large cohorts of creators through 3-month trainings, the organization helps them fill in media literacy gaps in their skillsets. This strategy will help 211CHECK have a greater impact in South Sudan's media environment than they ever could through full-time staff alone.
Working through traditional offline media, most notably call-in radio shows, has been far more rewarding, engaging, and effective than digital tactics like writing articles for their website. Likewise, the videos and infographics they've shared on social media platforms have dramatically outperformed long text articles and explainers.
What's unique about the South Sudan context?
In other places, people understand that we're facing a misinformation disorder, or at least understand what we mean when we discuss propaganda. In South Sudan, these are very new terminologies. There's limited awareness of the role of disinformation and propaganda in society, and the exacerbating effects digital platforms can have. Conversations help people understand the work to take on disinformation, but are hard to scale with limited resources.
Biggest challenges
Financial support: 211CHECK hasn't had a stable partner supporting their work. The project was initially supported by UNDP, but that funding wasn't renewed. Maintaining the website and organizing the network of volunteers is a huge challenge.
Media literacy in the general population and the lack of awareness of the more abstract role of disinformation in society is a headwind that makes their work more challenging.
Idea: Start a disinfo-fighting Whatsapp group
211CHECK started a specific Whatsapp group to keep its training graduates connected and help them challenge misinformation. They encourage its members to forward disinformation, screenshots, and links from other groups they're in. Participants can tag and directly engage with the organization's fact-checkers. This provides nearly immediate feedback and advice on how to treat a given piece of content.
Interested in participating?
Matt Stempeck, the National Democratic Institute, and Code for All are currently working on a research project on how civic tech can help confront disinformation. The project's goal is to learn from (and share out!) lessons learned from organizations that focus on this area.
Do you have any recent work confronting digital (or other) disinformation? If so, please reach out to Matt at info@civictech.guide to learn more about it and participate!
---
Matt Stempeck