Code for All Newsletter — November 2021
Words by Mar Marín • Nov 23 2021
> Welcome
Welcome to our last newsletter of 2021! 👋 This year sure has flown by. As we get ready to start 2022 with a bang, we'll be reflecting on all of the incredible work the global civic tech community has accomplished over the last year. To name a few, this past year we've worked together to improve our online facilitation skills, completed collaborative exchange projects focused on water quality, disinformation, and mapping lockdowns, and come together to share our work in the second ever Code for All virtual Summit!
We'll share more about the past year in updates to come, and for now, here are the latest activities, resources, and opportunities from the past two months:
> Code for All Updates
Our Equity and Inclusion Report and Playbook are OUT! We hope you'll join us on this ongoing journey of listening, learning, and taking action. Read our take on the process!
All the way from Colombia 🇨🇴 we're welcoming our newest member, DataSketch, into the network!
The Core Team has been meeting with new civic tech organizations from around the world with an aim to bring in more member organizations, particularly from parts of the world that aren't already represented in the Network, such as Code for Korea and Code for Jordan.
Our disinformation exchange, Troll Tracker, recently wrapped up! You can read about it here!
With support from the National Democratic Institute, Code for All and Code for Africa worked together to make the 2021 Summit a more inclusive experience. Read Mark Renja's insights about their work.
> Member Updates
Here find updates from a handful of our 30+ member organizations.
→ Ciudadanía Inteligente 🌎
We launched CILA 2021 and learn about experiences for change and innovative solutions that different local governments implement in Latin America. The instance focused on democratic governance; gender, inclusion and diversity; and environmental democracy, and sustainable cities. More than 200 people from all around the world connected to support more open, transparent and inclusive governments. Check all the information here: https://www.cila2021.org
→ Code for Africa 🌍
Co-hosted the Nairobi and Dakar legs of the 17th African Investigative Journalism Conference with Wits University, a hybrid event bringing together media professionals, civil society and academia from across the continent. Topics ranged from government-driven disinformation campaigns to viral visual storytelling techniques, and the launch of the Manuel de défense contre le cyberharcèlement, which Code for Africa translated and adapted for Francophone Africa in partnership with PEN America. Lastly, catch CfA's Chief Data Officer, Jacopo Ottaviani along with the World Bank's Ravi Kumar and Craig Hammer on what we are doing to strengthen the data use culture in West Africa.
→ Code for America (CfA) 🇺🇸
Announced that the organisation reached a voluntary recognition agreement with the CfA Workers United Union. This important milestone in Code for America's history will increase their ability to create a government that works for the people, by the people in the digital age.
→ Code for Australia 🇦🇺
Has been busy with some new work! We're wrapping up our first Advisory Service engagement, so look out for reflections on that new program soon. Our team has also had a big role in Design System AU, a new collective that's been formed to maintain the Australian Government Design System. We currently have three Fellowships currently running, inclusive of two with not-for-profit organisations – read all about them on our blog. Finally, episode 5 of our podcast, 'Talking About a More Digital Government' is out – you can listen to all episodes here.
→ Code for Canada 🇨🇦
Is excited to release our first case study: Building Digital Government Talent Pipelines! Through interviews with past Fellows, we take a deep dive into recruiting (and retaining!) digital talent in government. In the end, we share bold recommendations to modernize public service hiring practices and build a culture that enables digital transformation work. However, this first case study is only the beginning! We're partnering with Policy Ready and the Institute of Public Administration of Canada (IPAC) to produce the Digital Government Case Study Series.
→ Code for Japan 🇯🇵
We held "Civictech Challenge Cup U-22" (CCC U-22) and "NHK hackathon". CCC U-22 is an award for students who made prototypes to solve social issues. More than 200 students entries and 38 teams were formed in the Slack workplace virtually. NHK hackathon was born in collaboration with our regular hackathon event which is called "social hackday". NHK(Japanese national television network) prepares API for this event and contributors use it for media literacy education and diversion of video content to lifelong education.
→ Code for Pakistan 🇵🇰
We held a Govtech Innovation Challenge with our partners (in which we receive over 1000 problem statements) and followed it up with Govtech Hackathon. The winners received their prize money at Digital Youth Summit, an annual tech conference organized by KP Provincial Government. Our 7th cycle of KP fellowship program officially started as well as our first KP Women Civic Internship Program that will run in parallel with the fellowship.
→ Code for Romania 🇷🇴
Has worked on the Participation for Romania project, a digital platform through which every citizen has a say on the local budget, by offering clear and easily explained information, both in terms of impact and context. The solution reuses Consul, an open-source software used by public administrations internationally.
→ Codeando México 🇲🇽
The team has grown! CM welcomes Bubu, their new Technology Intern; and Oscar their new Program Manager.

They also participated in the "Open Government and the Participation of Civil Society Organizations in a multilateral context" discussion with the Mexican Secretary of Foreign Relations to address government openness and open data from a multilateral and national perspective. Rewatch their discussion here.
→ g0v 🇹🇼
The g0v hackathon moves to New Taipei for the first time, making the project the most precious Christmas gift for citizen science and technology on December 10th. More information here!
→ mySociety 🇬🇧
We're running hands-on series of TICTeC 'action labs' tackling the most pressing issues in civic tech – first a surgery and then a (funded!) working group that will take the ideas forward and build solutions. Applications are open!
→ Open Data Kosovo 🇽🇰
In collaboration with the Open Contracting Partnership (OCP) has just published a new report on monitoring open government contracts of COVID-19 in Kosovo. Check out the full report!
→ Sinar Project 🇲🇾
Participated at the 2021 Open Government International Virtual Forum. Re-watched their participation here. For a summary of processes, initiatives and key contacts for OGP in Malaysia, check this out!
→ Waag 🇳🇱
Has developed the Code for Children's Rights on behalf of the Ministry of the Interior, together with Leiden University, young people, designers, developers, and other experts. The Code of Children's Rights consists of ten principles with practical examples, which help designers and developers guarantee the fundamental rights of children in digital services.
> Job Opportunities
This is where we share current job opportunities we've found within and around the network.
> Events
This is where we share upcoming events within the civic tech realm.
[November 24] Action Lab #1: What would help the global civic tech community to work more effectively with public and private institutions?
[December 2] Masterclass on 'Civic Fundraising and Sustainability
[December 9] Code for Children's Rights (Dutch spoken)
[December 10] The [G]overnment [O]pen [T]ransparent_Data International Conference 2021. More info coming soon!
> Listening & Reading Room
Here's a list of some of the latest articles, podcasts and videos that we recommend.
[Spanish Resources]
> That's all folks!
To get in touch with Code for All, find us on Slack (@sofia, @lorin, @mar, and @nonso).

Ready to share what you know and inspire your peers? If you which to subscribe to our Mailing List, you can sign up to receive updates such as our bi-monthly newsletter, projects, events, and more here.
Until next year! — keep up the good work!
---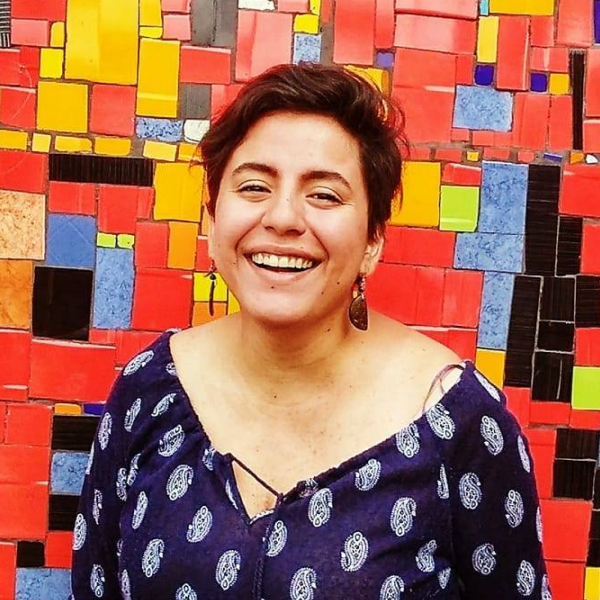 Mar Marín