Code for All Newsletter — September 2021
Words by Mar Marín • Sep 14 2021
> Welcome
What's up, Civic Techies? Welcome to our September newsletter! These past two months have been quite a ride as we've been getting ready for the upcoming Summit 2021 – believe us, you're going to love it!
As we say goodbye to summer (or winter, depending on where you are 😉) and dive into a new season, we want to share all the good news, progress and resources shared by our community for you to dive into exciting civic tech opportunities, events, and more.
> Code for All Updates
Notice something different? That's right, Code for All (CfAll) has a brand-spankin' new look! It's been an amazing journey to redefine the CfAll identity, and we're excited to share it with you. Read all about it here!


In August we wrapped up our first Support Squad meetings, with sessions focused on Funding & Partnerships, Program Management & Direction, Communications & Marketing, and Product Design. We were joined by amazing people from our civic tech community, who came together to discuss relevant topics and help each other with daily tasks and strategies.


Fundación Ciudadanía Inteligente (Chile) and Codeando México (México) were selected to participate in the first cohort for our Strengthening Financial Sustainability for non-profits Workshop, which will be lead by the consultant agency La Sobremesa. They'll start this week with the first phase of this tailored support process. Congratulations! We also want to thank all the organizations that participated in the open call and selection process for this Workshop, we hope to see you again in the next round!


CfAll's 2021 Summit is coming Sep 27 – 30th with panels, lightning talks, and workshops on: Open vs. Closed Tech in Government; Democracy & Elections; Disinformation & Fake News; Power Dynamics in Tech. Check out the agenda and help us spread the word! Register now: codeforall.org/summit-2021
> Member Updates
Here find updates from a handful of our 30+ member organizations.
→ Ciudadanía Inteligente 🌎
We want to promote citizen participation in decision-making and that is why we carried out our project Abre Alcaldías: an initiative that seeks to promote participatory, open, and innovative efforts in local governments in Latin America and that already has more than 60 people from 12 municipalities of the region, working for a new way of doing politics and regain the trust of citizens. In this context, at the end of October together with Asuntos del Sur we will celebrate the event "CILA 2021 – Latino Cities in Action: Strengthening Democracies in Times of Crisis" to encourage local governments to be open to their citizens.
→ Civic Tech Sweden 🇸🇪
You are welcome to join our weekly "fika" on Fridays at 15:00 CEST! Bring your coffee or prefered drink. You can find more details in our forum.
→ Code for Africa 🌍
Our africanDRONE initiative brought home the best data visualisation award in the Digital Media Awards 2021 for The Architecture of Apartheid, a piece exploring the history of hostels in South Africa. The iLab has launched the religious extremism fellowship, in partnership with the International Center for Journalists, to teach the data-driven forensic research techniques for analysing extremism and militancy. On our blog, you can read more about how CfA contributed to a cross-border InfoNile investigation into the state of wildlife poaching during the Covid-19 pandemic.
→ Code for Australia 🇦🇺
We're beyond thrilled to welcome two new Fellowship teams this month! Our Infoxchange Fellows are working on expanding Ask Izzy — a website that connects people with housing, a meal, money help, and health services. Our second team of Fellows are working with Arts Law to deliver a strategic roadmap and tech recommendations along with an MVP website. We're also part of a new collective called Design System AU who are taking over maintenance of the recently decommissioned Australian Design System. Finally, our podcast is taking off! You can listen and subscribe here.
→ Code for Canada 🇨🇦
We're excited to introduce our new Director of Delivery, Ruth Birman! Ruth joins Code for Canada from the private sector and brings her wealth of experience in design and product strategy. She'll be leading the team responsible for supporting government partners on their digital transformation journey.
→ Code for Germany 🇩🇪
With more and more people fully vaccinated, many Code for Germany volunteer groups are starting to meet in person again. Discussions about policy, mixed with tech talk: the local labs are livening up again, as we catch up with old friends over a caffeinated beverage.
→ Code for Japan 🇯🇵
We welcome more than 200 students from all over Japan to join the civic tech prototyping competition which is called" Civichtech Challenge Cup U-22". They are taking up and developing themes such as minority issues, environmental issues, disaster prevention, and response, and other social issues that the students themselves feel are important. The final presentation is scheduled for October.
→ Code for Netherlands 🇳🇱
We are working on an Algorithm Register prototype, a tool for public sector organizations to create an overview of the algorithmic applications they use, to facilitate algorithmic accountability, and a metadata standard for this type of information. Please contact johan@tiltshift for more information.
→ Code for Pakistan 🇵🇰
We are in the midst of shortlisting fellows for the 7th cycle of our KP Fellowship Program with our partners KPITB and The World Bank. And we are extremely happy to announce a new fellowship program, TECH-NIH based in the federal capital of Islamabad with the National Institute of Health (NIH). The first cycle will serve as a pilot program and will be of 3 months as compared to the usual 6 months format we have in KP province. The program will focus on developing digital solutions to improve healthcare services across Pakistan.
→ Code for Romania 🇷🇴
This year we have focused on an important goal on the "highway" Care for Romania – Inclusion for LGBTQ + people. Read more here.

Also, the Romanian-American Foundation released its 2020 Annual Report. Bogdan Ivanel was present talking about CfRomania's Task Force Program and how our community intervened at the beginning of the state of emergency triggered by COVID-19. Go check it out!
→ Codeando México 🇲🇽
With increasing opacity in Mexico, we facilitated a conversation between activists, public officials, technologists, and academics to set guidelines and recommendations for a National Open Policy. This is a summary of the conversation.
→ Open Knowledge Belgium 🇧🇪
The results of Open Summer of Code 2021 – our 4-week summer programme where students transform open innovation projects into powerful real-world services, can be found here.
→ Waag 🇳🇱
Imagine a place that's a lot like Earth. As a Future Lab for technology and society, Waag is researching how we can create an open, fair, and inclusive future. Read all about it here.
> Job Opportunities
This is where we share current job opportunities we've found within and around the network.
> Events
This is where we share upcoming events within the civic tech realm.
[September 13 – 17] CTIF21: #DIYAFRICA
[September 18] Code for America's National Day of Civic Hacking
[September 22 – 26] Civil Match Forum
[September 23 – 26] Expedition by Waag
[September 27 – 30] Code for All Summit
[September 28] TICTeC Show and Tell
> Listening & Reading Room
Here's a list of some of the latest articles and podcasts that we recommend.
[Spanish Resources]
Grab your headphones and tune in!
> That's all folks!
To get in touch with Code for All, find us on Slack (@sofia, @lorin, @mar, and @nonso).

Ready to share what you know and inspire your peers? If you which to subscribe to our Mailing List, you can sign up to receive updates such as our bi-monthly newsletter, projects, events, and more here.
Until next month — keep up the good work!
---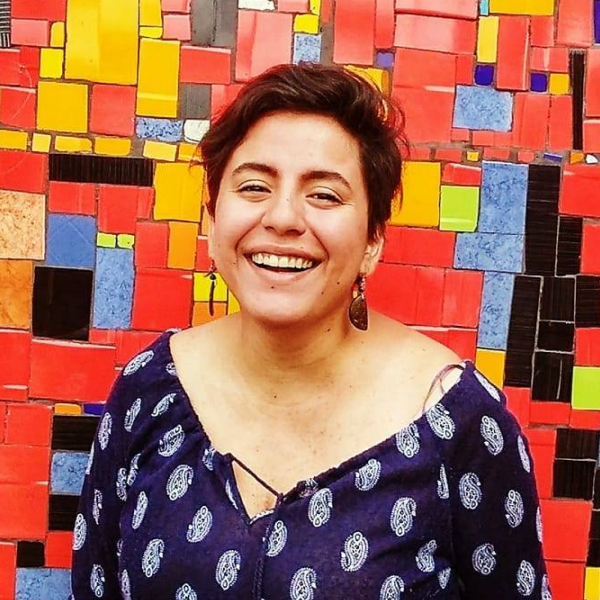 Mar Marín