The Summit Experience
Words by Lorin Camargo • Oct 3 2022
Reflections from Code for All's Summit 2022
This year marked Code for All's third online Summit – and what a Summit it was!
Our 35+ immersive sessions led by more than 60 speakers from around the world really elevated conversations and initiatives of the civic tech movement.
From discussions around combating climate change and fighting authoritarianism to building community engagement and making civic tech more accessible, we were awed and inspired by what we learned and can't wait to see how the many projects shared move forward!
Our Summit 2022 was made possible through support from the National Endowment for Democracy (NED) and the National Democratic Institute (NDI).
Who was there
We had over 475 registrants at this year's Summit, and folks tuned in from 70+ countries around the world, including:





Afghanistan 🇦🇫
Argentina 🇦🇷
Australia 🇦🇺
Austria 🇦🇹
Bangladesh 🇧🇩
Belgium 🇧🇪
Benin 🇧🇯
Bolivia 🇧🇴
Brazil 🇧🇷
Bulgaria 🇧🇬
Cameroon 🇨🇲
Canada 🇨🇦
Chad 🇹🇩
Chile 🇨🇱
Colombia 🇨🇴
Côte d'Ivoire 🇨🇮
Czechia 🇨🇿
Denmark 🇩🇰
Ecuador 🇪🇨
Egypt 🇪🇬
Ethiopia 🇪🇹
Finland 🇫🇮
France 🇫🇷
Germany 🇩🇪


Hungary 🇭🇺
Iceland 🇮🇸
India 🇮🇳
Indonesia 🇮🇩
Ireland 🇮🇪
Israel 🇮🇱
Italy 🇮🇹
Jamaica 🇯🇲
Japan 🇯🇵
Jordan 🇯🇴
Kenya 🇰🇪
Malawi 🇲🇼
Malaysia 🇲🇾
Malta 🇲🇹
Mexico 🇲🇽
Morocco 🇲🇦
Nepal 🇳🇵
Netherlands 🇳🇱
New Zealand 🇳🇿
Nigeria 🇳🇬
Pakistan 🇵🇰
Paraguay 🇵🇾
Peru 🇵🇪
Poland 🇵🇱


Portugal 🇵🇹
Romania 🇷🇴
Russian Federation 🇷🇺
Singapore 🇸🇬
Slovakia 🇸🇰
South Africa 🇿🇦
Spain 🇪🇸
Sri Lanka 🇱🇰
Switzerland 🇨🇭
Taiwan 🇹🇼
Thailand 🇹🇭
Timor-Leste 🇹🇱
Tunisia 🇹🇳
Turkey 🇹🇷
Uganda 🇺🇬
Ukraine 🇺🇦
United Kingdom 🇬🇧
United States 🇺🇸
Uruguay 🇺🇾
Venezuela 🇻🇪
Zambia 🇿🇲
Zimbabwe 🇿🇼

A handful of highlights
This year's Summit featured sessions in a mix of formats including Lightning Talks (short and sweet TED-style presentations), Panels (longer discussions with 3 or more speakers), and Workshops (interactive, skill-building sessions).
Sessions covered topics like:
Empowering Youth in Jordan 🇯🇴
Maysam Hadidi and Shahd Almahameed share learnings from the pilot Code for Jordan program, which focuses on "the violence of exclusion" by enhancing youth employability through experiential skills development and strengthening youth engagement with the government. Watch the session here.
Climate Action in Australia 🇦🇺
Ren Geers teaches us how to engage communities to become part of the solution to climate change, even when they don't believe in it or are too busy trying to survive its effects. Watch the session here.
Emergency Response to Support Ukraine 🇺🇦
Civic technology can empower displaced people, migrants, and refugees at a fast pace. During the recent war in Ukraine, dozens of tools emerged that brought inclusive help to all who had to leave their country. Tereza Gagnon, Eva Pavlíková, Zuzanna Gutkowska, and Olivia Vereha share some of the best solutions created in response to this crisis so far. Watch the session here.
Fighting Authoritarianism in Venezuela 🇻🇪
Adrián González, Daniela Alvarado Mejias and David Aragort discuss efforts by civil society organizations in Latin America and the Caribbean to raise awareness about the growing trend of digital authoritarianism. Watch the session here.
[Note: this session is in Spanish; to access translated subtitles on the YouTube page, go to Settings > Subtitles/CC > Auto-translate and choose your language]
Breaking Barriers for Women in Pakistan 🇵🇰
Featuring Anam Zakaria and Ibraheem Saleem, this session gives us a look into a remote internship program designed to empower women from underserved cities of Pakistan who are traditionally unable to join the workforce due to challenges in mobility, and face multiple other social and cultural barriers. Watch the session here.
And More!
Check out all of our Summit recordings on the Code for All YouTube channel.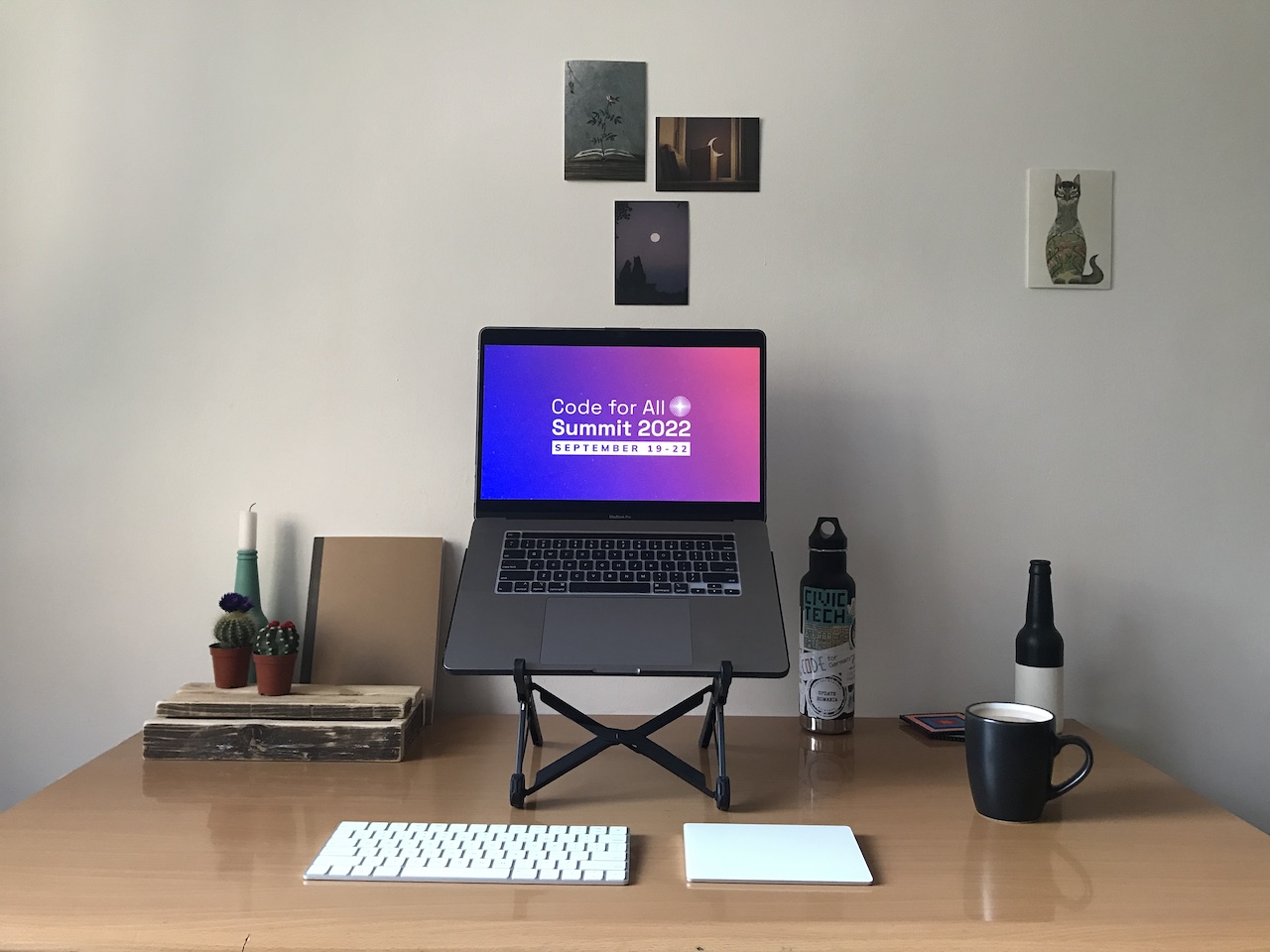 Next year
Whether you attended live sessions, or tuned in after by watching the recordings, we'd love to hear your thoughts on how this year's Summit went. This was our third virtual Summit, and we want to know what went well and what we can do better next time. We'll use your responses to help inform and improve future Summit experiences. Please take a few minutes to respond to this quick survey and provide us with your feedback.
Together, we know we can make a difference for people all around the world through the intersection of community, government and technology.
To join in on civic tech discussions and connect with others in the space, hop on to the Code for All Slack. You can also stay up to date with the global civic tech community by joining our mailing list.
See you around the Network!
---
Lorin Camargo