8 Months Later — Civic Tech Takes on a Pandemic
Words by Lorin Camargo • Dec 8 2020
Updates on how the global civic tech community has responded to COVID-19 since we first shared project highlights in April 2020.
Back in April, we wrote an article highlighting the many civic tech projects that were popping up around the world in response to COVID-19. There was a major surge of action within the global civic tech community at the onset of the pandemic, which, at the time, was both uplifting and a little bit intense.
Our network saw several new members, projects and events relating to COVID-19 appear within the blink of an eye:
In March alone, the rate of new members joining our Slack space (the place where our community meets online) nearly tripled.
One of our member organizations, Code for Romania, quickly had over a dozen projects started in response to the pandemic with several volunteers working around the clock to help get them off the ground.
There was even an online hackathon in March that saw tens of thousands of attendees show up only days after the event was announced.
We were curious to hear how the many projects that popped up during this period of quick and widespread response have held up over time.
So now, 8 months later, we've checked-in with a small handful of the organizations we initially interviewed to see how their projects have sustained, what they've learned so far throughout the pandemic, and what's been most challenging along the way.
Here's what we found:
Code for Japan 🇯🇵
Looking at your projects mentioned in our first blog post, how would you rate the projects on how they have sustained?
Project #1 — collaboration with the Tokyo Metropolitan Government to create a website where folks can view COVID-19 information and data
🟢 This project has sustained. After releasing the website, more than 20M unique users accessed the website and more than 18M page views have been counted. It is a popular website and is still very important for the metropolitan government. We also won the Good Design Gold Award for it.
Project #2 — other prefectures in Japan deploying their own versions of the website
🟢 This has also sustained. We've published source code with an open license and more than 80 cities in Japan have created their own website using the source code.
Project #3 — governments launching their own versions of the website
🟢 This has also sustained with 10 different governments launching their versions of the website.
Project #4 — website where visitors can sort and search for information that the Japanese government provides as open data (includes information on support and free offers available to the public)
🟡 The website is still live but the government doesn't add new data — people can still use it but the data isn't fresh or up to date right now.
Are there any new projects Code for Japan is working on in response to COVID-19?
Local Code for Japan Brigades (i.e. volunteer groups) have launched a website that allow people to search for restaurants that provide take out services (some of the Brigades include: Code for Yokohama, Code for Nagareyama, and Code for Aizu).
The restaurant data is currently maintained by various stakeholders. The plan going forward is to create an open database of restaurants in collaboration with Open Eats Japan.
What have been some of the biggest challenges in responding to COVID-19 as a civic tech organization?
Human resources to organize the projects and maintain them regularly. We have a lot of people who want to contribute voluntarily, but it's difficult to organize the project itself (dividing tasks, creating issues, making it easy for people to join and contribute, etc). Project management is very important but that kind of task requires time and needs to be regularly maintained. It's difficult for volunteer project managers because it takes a lot of time. People are exhausted now, it's been a long time since COVID-19 started, so COVID projects are slowing down.
How have you overcome those challenges?
After COVID-19, the Japanese government realized digital transformation is important and have recently been prioritizing this type of work. They're creating a department focused on government digital transformation called the Digital Ministry.
At the same time that Code for Japan became the biggest civic tech organization in Japan, the government began looking for ways to collaborate with citizens, and so they've started to become interested in collaborating with us. These kind of government resources are really important, and I hope the government with allocate some funding for civic tech activities.
Is there any advice you would give to other civic tech organizations responding to COVID-19?
Collaboration with other organizations is really important. Code for Japan has collaborated with g0v fellows from Taiwan and been involved with collaborative hackathons.
This kind of collaboration has given us great inspiration and has allowed us to think about programs from other perspectives. It has also helped in our efforts to collaborate with government.
Earlier this year, for example, civic technologists in Taiwan and Korea came up with a mask inventory API, then Code for Japan organized a conference with them and invited people from government to attend. Through this event, people from government realized that open APIs and open data are really important.
That's great to hear! Is there anything else you'd like to add, that I haven't covered?
Before COVID-19, we had 500 members on Slack and now we're nearing 4,000 members. The Code for Japan community is growing. In October, more than 3,000 people participated in our Summit.
The increase in new people has made it more difficult to maintain the organization. Before this year, we were not such a big team (20–30 staff), but recently we feel we need to make a stronger team to organize the community and provide professional services to the government. We need to reform our governance, community design and project management style. We need a governance team and a fundraising team. After the Summit, we realized we don't have a good team to maintain our Code of Conduct, so we also need a team to investigate what has happened when there are violations. We need more people to make our work high quality.
Thank you Hal Seki for providing us with these updates.
Code for Germany 🇩🇪
Looking at your projects mentioned in our first blog post, how would you rate the projects on how they have sustained?
Project #1 — WirVsVirus is an online hackathon created in cooperation with the Federal Government and six other organizations, which took place March 20–22. This online event focused on creating prototypes that can be sustained and can create impact beyond Germany for Europe and the rest of the world. 28,000 participants showed up online and generated over 1,500 ideas for combating the pandemic.
🟢 There have been many follow up events to update the community around the hackathon and to showcase the projects. To make sure the projects can be sustained, we have set up a support program with four main elements:
Solution Enabler: needs-based support of 130 solutions through expertise, resources and partnerships
Solution Builder: intensive program to bring 10 solutions into independent application and scaling within a few weeks
Community Management: continued moderation and support of all solutions and 40,000 Slack participants
Matching Funds: a crowdfunding matching fund for the broad financial support of emerging solutions
These programs were designed to support our overall goal of the hackathon: demonstrate solidarity and empower civil society to come up with innovative ideas on how to tackle the COVID-19 crisis. For this unique case, our first and foremost goal was not the sustainability of every project, but its feasibility and effectiveness. Many solutions might be critically important right now, but not in three weeks from now.
The Solution Builder focuses on developing prototypes into effective solutions as fast as possible. The Solution Enabler is not just for projects from the hackathon — every project that works on solving the COVID-19 crisis could apply. The same goes for the community that was created during the hackathon, which is now open for everyone to join.
The seven partners who created the hackathon have documented their journey in this handbook.
Project #2 — a platform to connect neighbors, enabling members of local communities to share information, tips, and offer help to one another
🟡 The platform is still up and running and has a news bot that automatically informs about new COVID-19 mentions in the press. However, the interaction of users that had been constant until Mid-April is almost non-existent now. The platform was set up out of an urgent need for exchange at the beginning of the pandemic. I would suspect, now that everything is more settled (or in the 'new normal'), that people get their information and networks from their previous sources.
Project #3 — an initiative called "Nerds help" to connect developers with medical professionals or people working to prevent or cure the virus
🔴 The initiative has been abandoned. The digital support of our volunteers was continued on local levels and more individualized to the local needs and the network of our local chapters (the OK Labs). For example, some labs have offers for NPOs to support them in their digital infrastructure if they need it.
Are there any new projects Code for Germany is working on in response to COVID-19?
Not to my knowledge, our community continues to work on matters of sustainability and mobility and sustains already existing projects. In regard to COVID-19, the members of our network are also in contact with local municipalities to convince them of how Open Government, Open Data and Civic Tech can help them to become more resilient towards crises.
What have been some of the biggest challenges in responding to COVID-19 as a civic tech organization?
Fundraising overall, especially to acquire new funding for already existing projects whose value is not necessarily linked to the pandemic.
Implementing projects that improve government services or help citizens and businesses during the pandemic has been a challenge. Outreach and communication is particularly important, especially when bureaucratic burdens are high and complicated to understand.
Is there any advice you would give to other civic tech organizations responding to COVID-19?
Bring stakeholders and funders on board very early in the process. Ask for commitment and long-term involvement. Your work as a civic tech community is very valuable and can make a real difference during the pandemic, thus you have every right to ask for strong support from officials and sponsors.
Is there anything else you'd like to add, that I haven't covered?
Most of the material that we developed is in German and specific to the German political context and status of digitization, that's why we often do not have material to share with the rest of the Network.
Thank you Claudia Jach for providing us with these updates.
Code for Pakistan 🇵🇰
Looking at your projects mentioned in our first blog post, how would you rate the projects on how they have sustained?
Project #1 — Dashboard with the Ministry of National Health Services
🟢 / 🔴 This project is still up and running but is no longer a Code for Pakistan project. This was created in very early days and began when the Ministry of National Health Services needed urgent support to create a data dashboard. The first few days the dashboard was live, it was shown by the Ministry to the public (around the 17th-20th of March).
Later, the government took over running the dashboard (by late March), and since then we haven't had much input. Code for Pakistan's dashboard in the early days was more statistical, and the government's is more informational. Overall, we were the instigator for the dashboard and APIs for services related to COVID — the primary dashboard is up and running and the government has done a great job.
Project #2 — Risk calculator logic for Facebook Messenger Chatbot
🟢 Both WhatsApp and Facebook bots still up and running. It allows people to enter their symptoms, and then they're told whether or not they're likely at risk of COVID-19 or not (e.g. it might ask, 'are you coughing or not, do you have a fever or not, etc' and depending on the state of the patient, the bot will let them know if they have mild COVID symptoms, or not at all, etc).
Are there any new projects Code for Pakistan is working on in response to COVID-19?
Telehealth (web portal is currently down) is a helpline we've created with Digital Pakistan. This project connects volunteer doctors with people who may or may not have COVID-19.
We would like to bring the portal back up — currently the 1166 (an emergency phone number) is up and running so people can contact the helpline.
We wanted to ensure everyone had only one number to call or one portal to search, and that everyone was behind the service (versus having several different options of where to go and not knowing what to choose).
What have been some of the biggest challenges in responding to COVID-19 as a civic tech organization?
Sometimes the government can be hesitant to collaborate with non-governmental actors, and that is understandable as they are answerable to a lot of people and there is a lot of pressure to deliver quickly at a time like this. The collaborative-ness varies from department to department. We try to help where we can and continue to explore channels and opportunities for meaningful collaboration.
Is there any advice you would give to other civic tech organizations responding to COVID-19?
It's important to make sure everything is public. Keeping everything open source has helped us and others adopt projects quickly and that's been very helpful. A lot of solutions were already available online. We had options for contact tracing from different apps around the world but eventually didn't use any because of how democracy operates in our country.
So the advice we would give is to remain open source and try to keep having conversations with people to collaborate with, people for support — just keep at it.
Is there anything else you would like to add, that I haven't covered?
We made sure to have a good data stream coming in from the beginning, which has proved important. Data work does not get a lot of visibility but it's a big contribution.
We were very happy that we set up a data pipeline (which is used in decision-making every day), and that we made sure everyone who was entering data was entering it in the same format within the entire health sector. This helped enable decision making at the top, and helped make it a seamless process.
The data has also been updated constantly (it's updated every night from hospitals) — we need to consistently make sure it's all up to date which is a lot of work.
In the early days there were a lot of people saying 'tell me how I can help' which was nice to see, and getting them to work together was critical to setting up the data that was coming in — we managed to get everyone in line, working together very quickly.
Thank you Shaji Ahmed, Ali Raza, Sahar Habib & Ebtihaj Khan for providing us with these updates.
Code for Africa 🌍
Looking at your projects mentioned in our first blog post, how would you rate the projects on how they have sustained?
Project #1 — partnering with the continent's leading open source digital archive of African scientific and scholarly research, AfricArXiv, to help surface actionable local data and research to improve the feasibility and effectiveness of local interventions
🔴 This partnership has been dropped.
Project #2 — deploying a multinational team to debunk COVID-19 misinformation in six African countries
🟢 Our COVID-19 fact-checking efforts have grown substantially over the last few months. Within Code for Africa our mis-and-disinformation busting efforts are handled by our in-house fact-checking initiative, PesaCheck. The PesaCheck team is now debunking COVID-19 claims in 12 African countries, using 4 languages. The pandemic also saw the launch of our massively successful PesaCheck WhatsApp tip-line, which receives tips for debunks and broadcasts a weekly newsletter. This tip-line now has more than 600 subscribers across 16 countries.
Project #3 — partnering with political economy analysts at Takwimu to pull together contextual data to help identify the communities, infrastructure and services most at risk from COVID-19
🟡 This project has been paused, with no update available.
Are there any new projects Code for Africa is working on in response to COVID-19?
Code for Africa's WanaData women and data network has partnered with Twaweza, a youth advocacy group based in East Africa, to support WanaData Fellows to document how the COVID-19 pandemic has affected East-African women, and other marginalized communities. The partnership will see the production of multimedia packages, published in Kiswahili, marrying in-depth reporting, data journalism and coordinated social media activity. Fellows also received cash grants to support their reporting. The first story has been published, with more to follow.
Also, the WanaData community worked extensively with Code for Africa and the Pulitzer Centre for Crisis Reporting to launch 'Outbreak' a series of data-driven reportage exploring the effects of the pandemic in Africa, focussing on its impact on women, children and minority groups. Much of this coverage was published in major African media. Some examples are listed below:
👉 The Troubled Suspected COVID-19 Intermediary Host by WanaData fellow Purity Mukami.
👉 Impact of Covid-19 on nutrition and food shortages in Nigeria by WanaData fellow Olufunmilayo Habibat Obadofin.
👉 Poor, Vulnerable, PWDs Left Behind As States Adopt Online Teaching by WanaData fellow Blessing Oladunjoye.
What have been some of the biggest challenges in responding to COVID-19 as a civic tech organization?
As a civic technology organization whose focus is on using data for public information and decision making, the availability of recent and up-to-date data was a major challenge. For example, Tanzania stopped reporting COVID-19 cases in early May. The lack of other COVID-19 related data was also evident, as many African countries did not know how many hospital beds, ICU units or ventilators were available. In some cases when governments were able to pull together this data, it was only at a national level. This was a problem because in African countries there is a large occurrence of urban slums — areas can change from very well developed to not so developed — without granular data that is representative of these shifts.
The pandemic has forced our Data Academy to immediately shift its training from physical to virtual. Our internal communications structures and remote working protocols meant that Code for Africa made the jump to remote work almost painlessly. Implementing remote training however, required us to relook at our training practices — how we train and engage participants — and rework these to optimize them for virtual training platforms. We also had to relook at our training materials and course curriculums and ensure that the tools and platforms we used were accessible to learners with bandwidth limitations. A lot of time in each training also went into making sure participants could work with the tools we were asking them to use — it's harder to gauge understanding online and pay extra attention to learners than it is in physical training. Then, of course, remote training brought in additional obstacles like potential blackouts and internet outages.
Is there any advice you would give to other civic tech organizations responding to COVID-19?
COVID-19 posed an enormous challenge to civil society workers. Especially those who were not too familiar with digital technologies and had to rapidly adapt to collaborate remotely with their teams. The suggestions we give are very practical: get a water bottle and hydrate on a constant basis, learn more about the Agile Methodology, try to carve out a workspace at home (to separate it from personal life spaces), have video calls only when necessary (and replace them with actionable, quick inputs on platforms like Google Drive and Slack), explore tools like Miro.com and Jamboard to brainstorm ideas with your teams, and finally dedicate some time to learn new methods and skills in one of the many online conferences and webinars that are made available these days.
In terms of projects, we suggest not to rush into investing massively in developing new anti-COVID-19 data/tech tools, but rather dedicate time to research that's already out there and network with existing initiatives in order to cooperate and add value.
Thank you Amanda Stydom for providing us with these updates.
---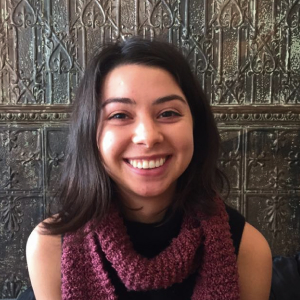 Lorin Camargo